Basketball is back and it's time to take a look at how things have begun across Europe with my week 1 roundup. Below I take a day by day look at the early domestic league games as well as the Euroleague qualifying tournament that took place.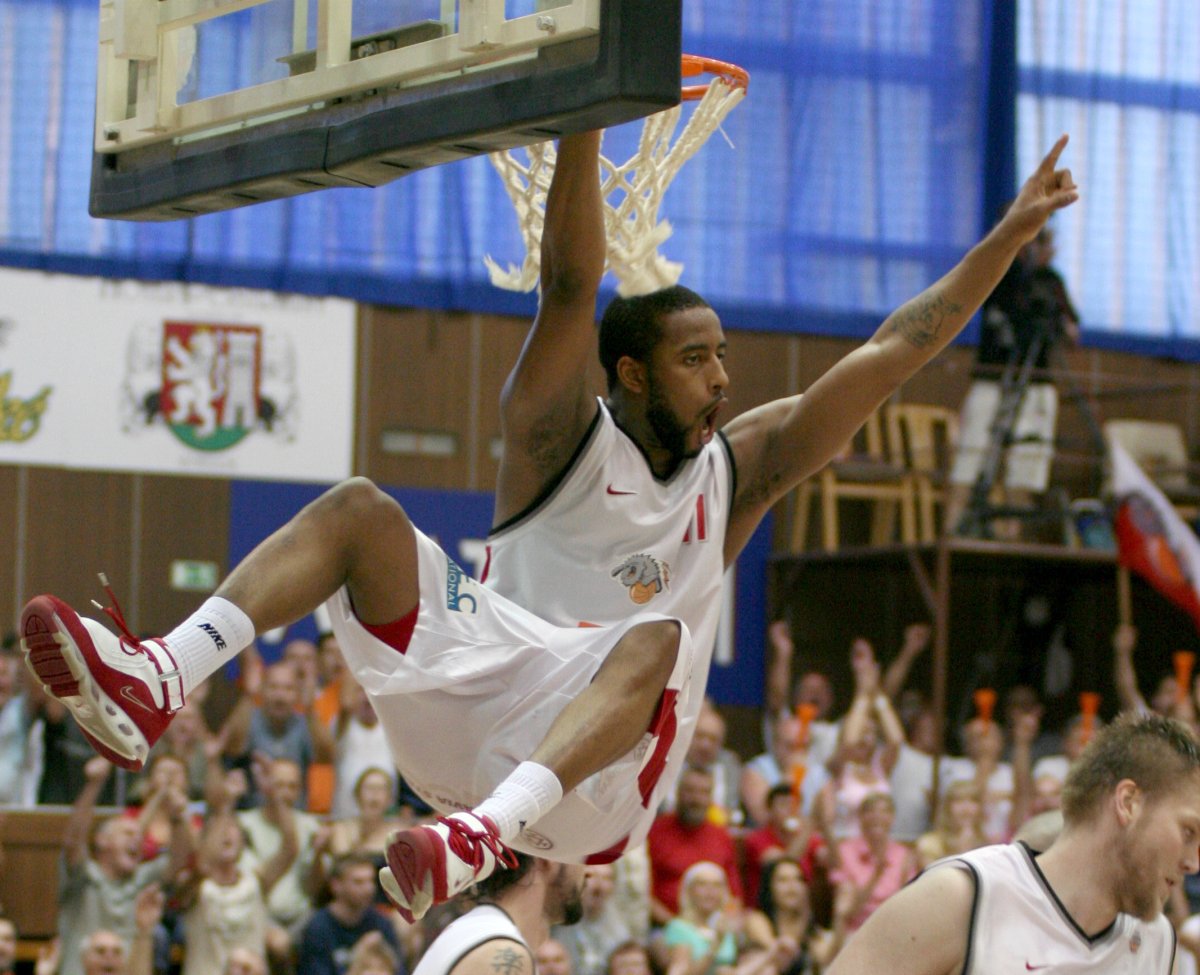 Darius Washington leads CEZ Nymburk to victory to open up the Czech NBL season.
We start off Monday in the Czech Republic as NBL champions CEZ Nymburk started it's defense of 11 straight titles by knocking off Usti nad Ladem at home by a score of 85-66. Point guard Darius Washington led the way with 22 points in just 21 minutes of play. 21 year old Martin Kriz added 9 points & 12 rebounds as Nymburk has now won 58 straight NBL games with it's last defeat being a 2 point loss to Decin on December 29th, 2012.
Amara Sy's double double helped Asvel Villeurbanne advance in the Euroleague qualifying round.
French teams ruled Tuesday's Euroleague qualifying matches as Strasbourg destroyed VEF Riga 82-53 and Asvel Villeurbanne dispatched the Belgian hosts Oostende 86-77. Ali Traore & Antoine Diot paced Strasbourg with 15 points apiece as last year's LNB runners-up stretched a 10 point halftime lead to 23 by the end of the 3rd quarter and never looked back. Asvel held off the Belgian champs behind 23 & 10 from Amara Sy. Edwin Jackson added 20-4-4 while Taurean Green hit 5 of 8 from downtown for 17 points and adding 5 boards & 4 steals. Polish prospect Mateusz Ponitka led Oostende with 17 points off the bench.
Bracey Wright went 9-12 from the field as Hapoel Jerusalem stayed alive for a Euroleague berth.
On Wednesday we saw Israeli side Hapoel Jerusalem and Russian powerhouse Unics Kazan advance in the Euroleague qualifying tournament. Jerusalem built a big lead behind Bracey Wright's 22 points off the bench and held on for a 94-84 victory over CEZ Nymburk. Joseph Jones added 16 & 8 for the winners while Darius Washington paced Nymburk with 18 points and 10 assists. The two new additions from Italy's EA7 Milano, Curtis Jerrells & Keith Langford, were a combined 7-13 for 3pt range while pouring in 22 points apiece in the 90-86 victory over Stelmet Zielona. The Polish side squandered a 30 point performance from veteran point guard Steven Burtt.
Wednesday also marked the beginning of the Lithuanian LKL and we saw opening round wins by Zalgiris, Neptunas & Pieno Zvaigzdes.
Diego Kapelan was the hero for Wels in the Austrian ABL season opener.
The second round of Euroleague qualifying matches were overshadowed by Thursday's Austrian ABL double OT thriller between Wels and Gussing.

This shot by Diego Kapelan

put Wels ahead for good and clinched the road victory. Kapelan finished with 25 points while teammate Tilo Klette added 26 points & 10 rebounds. Thomas Klepeisz led the Knights with 23 points, 12 assists & 6 rebounds.
Taurean Green & David Lighty combined for 28 points (7-10 3pt), 13 rebounds & 15 assists to lead Asvel to a 74-65 victory over Strasbourg and a place in the finals. They would meet Unics Kazan who overcame a sloppy start to defeat Hapoel Jerusalem 82-71. Unics shot 58% from the field to Jerusalem's just 38% which help make up for the team's 18 turnovers.
James 'Flight' White led Unics Kazan to a Euroleague berth with 21 points in the victory over Asvel Villeurbanne.
On Friday we watched as Unics Kazan completely erased a 14 point halftime deficit in the 3rd quarter on their way to a 88-79 victory over Asvel Villeurbanne.
Unics' frontcourt of D'or Fischer, James White & Kostas Kaimakoglou led the way in making
the Russian team the 24th and final participant in this year's Euroleague. David Andersen had a big game with 24 points & 9 boards for Asvel but it wasn't enough in the end.
Friday marked the opening match of the French Pro A season as Pau-Orthez defeated Orleans 72-60 behind Antywane Robinson's 17 & 9. Orleans shot just 33% from the field for the game.
The British BBL also kicked off with 3 games and a couple of big double doubles in road victories by
Worcester's Robert Thurman (27-13) and
London's Makal Stibbins (27-12). Sheffield proved victorious at home against Durham as well.
The Austrian ABL continued to provide drama as Christoph Nagler's 2 clutch free throws with 0:02 left in the game gave Vienna the 78-77 victory over Furstenfeld. Gmunden, Kapfenberg & Oberwart also posted victories in their opening games of the season.
Blake Schilb's buzzer beater lifted Paris-Levallois to an opening night victory.
The opening round of games in the French Pro A league started Saturday off with a bang as

Blake Schilb's turnaround baseline buzzer beater

gave Paris-Levallois the 85-84 victory over Chalons-Reims. Schilb ended with 21 points and his shot overshadowed great games by Darryl Watkins (22 pts, 8 reb) and Tasmin Mitchell (21 pts, 5 ast, 5 stl). The big men for Cholet outplayed Dijon's guards en route to a 81-73 win. Le Havre and Rouen blew big halftime leads but were able to hang on while Nanterre just cruised to victory over Chalon.
Cory Abercrombie's 27 & 16 led Svitavy to victory in the Czech NBL while Neptunas absolutely dismantled Lithuanian LKL newcomers Mazeikiai 110-64. Lietuvos Rytas & Tonybet were victorious as well.
The German Pro A (2nd division) league also kicked off on Saturday with Boise State rookie Thomas Bropleh's buzzer beater to give Finke Baskets the 72-70 road win over the Gotha Rockets. Hamburg Towers also survived a comeback attempt from the Giessen 46ers by hanging on for a 66-65 finish and led by 22 & 13 from Michael Wenzl. The two teams relegated from last year's BBL both posted round one victories. Vechta beat the Bayer Giants 71-63 while s. Oliver Baskets crushed Cuxhaven 114-63. The day's top performance came in Essen's 96-82 win over Chemnitz where Chris Alexander poured in 36 points for the winning side.
J.P. Batista paced Limoges to victory over Nancy on Sunday.
The reigning French champs started off the season by dominating Nancy in Sunday's matchup 75-56. Nevezis pulled off a road upset of Pieno Zvaigzdes 95-84 behind 23 & 9 from Vaidotas Volkus in the Lithuanian LKL matchup. Heidelberg & Baunach each won their German Pro A debuts while the Bristol Flyers & Leicester Riders each jumped to the top of the British BBL standings with their second victories in as many games.
The biggest statement game came from the Gussing Knights of Austria. Gussing had started off the season with a Supercup loss to Kapfenberg in which they were down 3 and a crazy series of events leads to Thomas Klepeisz being fouled and being awarded 3 foul shots. He made the first two but unfortunately missed the 3rd and Gussing lost by 1. Four days later was the heart-breaking double overtime loss to Wels which I chronicled above. So the reigning ABL champs took out their early season frustrations on UBSC Graz to the tune of a 124-46 victory on the road. In the 78 point victory, Gussing shot 66.2% from the field for the game and held UBSC Graz under 30% shooting while out-rebounding them 45-20 and forcing 23 turnovers, yikes.